Uniform
Smith`s Wood Primary School is a "uniform" school. Uniform ensures that all of the children are dressed smartly and sensibly. We also believe that uniform wears well, costs less than fashion wear and contrib-utes to a feeling of belonging to the school.

Parents and pupils were consulted on our uniform and the governing body are committed to high stand-ards of uniform throughout the school.

Uniform with the school badge is available from PBS Sports (B37 6QQ - tel.0121 770 8000). Please note that it is not necessary to wear uniform with the badge, a plain red jumper or sweatshirt is fine. Please note that trainers should not be worn in the school, except for during PE activities.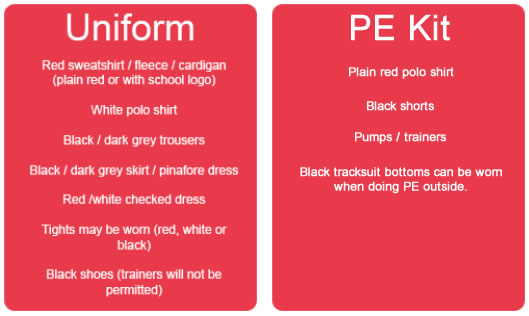 Book bags and water bottles are available to purchase from PBS Sports or the school office.
No jewellery except for watches and stud earrings. All jewellery must be removed by children prior to PE lessons for safety reasons. We would also ask parents to avoid having ears pierced during term time as this can cause a problem if children need to keep the earrings in constantly for a number of weeks.
Pupils at Smith's Wood Primary Academy are not permitted to use mobile phones or smart watches within school, trips or school events, for more information on our pupil mobile device policy please see our School Policies page.
Lost property

All property, including footwear should be CLEARLY LABELLED. There is a lost property box in the main reception. Please enquire at the office.